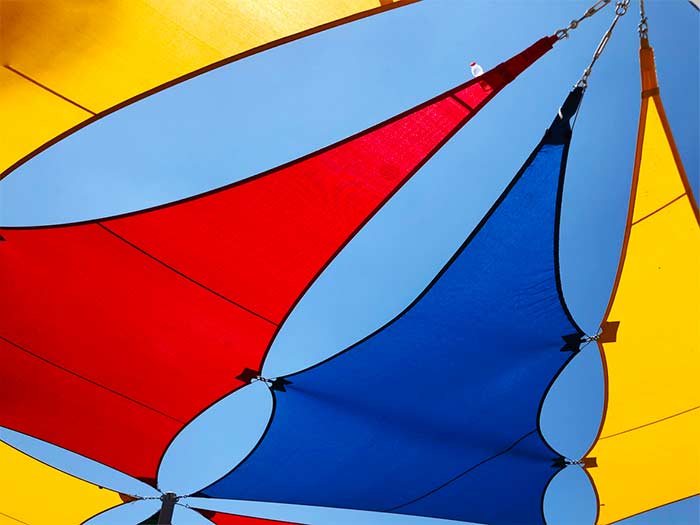 14 Jan

Tips for Choosing the Right Colour and Fabric for Your Shade Sails

Shade sails are a wise investment for any Australian home, not only are they an attractive and affordable solution for sun protection, they are easy to install, easy to maintain and can be custom made to suit almost any home or property. For over 20 years, Advanced Sail Structures has been providing quality shade cloth solutions for domestic and commercial customers in Brisbane and surrounds. If you are considering installing shade sails, you may be faced with a few decisions to make, two of which are selecting the colour and fabric that will work best. Here's our guide to choosing the right colour and fabric of shade cloth to enhance your Brisbane home.
Choosing the Right Fabric
There is a huge variety of shade cloth fabrics and they all have different features and benefits. How can you tell which one is the right one for you? Whether you want bright attractive colours, light transference, heavy-duty sun protection or easy maintenance, the fabric type will depend on the answers to the below questions:
Where will the shade sail be located?
Is it likely to be exposed to extreme weather conditions?
Do you need your shade cloth to be waterproof?
How much area do you want the sail to cover?
Are you protecting people or vehicles UV rays?
It's important to consider your property, the shadows cast throughout the day and year as well as the function the shade sails will serve. Knowing what you need and want from your shade sails will help you determine which fabric will be the most suitable.
Considerations When Choosing Shade Sail Colour
Whether you want crisp white, bold black or anything in between, when it comes to picking shade cloth colours you will be spoilt for choice. If you are unsure which colours to go for, the below tips may help you decide.
Mixing and matching multiple shade cloth colours will add depth to the design and create visual interest that looks modern and bespoke.
Do you want the shade sail to blend in to the colour scheme of the surrounding buildings or stand out to create a striking design feature? Matching shade sails to the colour of the existing structures will create a seamless aesthetic.
Choosing earthy colours may be a good option if you want to sails to disappear into surrounding foliage, while sails over children's play areas might be better suited to bright, fun colours.
While all high quality shade sails provide excellent sun protection, lighter colours may give you slightly less UV protection than darker coloured sails, however they will let in more light.
Darker colours may let less light penetrate through, however they are known for hiding the dirt well which is great if you are after a lower maintenance option.
Colour trends change from year to year. Classic colours will not go out of style, so think carefully before you choose an on-trend hue.
Are you finding the decisions overwhelming? Need help selecting the right shade sails for your property? At Advanced Sail Structures, we have specially trained shade technicians who will help you every step of the way during the design process. Taking the time to understand your needs, our technicians will custom design a shade sail or shade structure for your unique site, suggesting the most appropriate fabrics, styles and colours to create the best shade solution. Servicing Brisbane, Ipswich, Gold Coast, Moreton Bay around surrounding areas, call us today for a free quotation.